Every month we introduce a member of the Leibniz AI Lab. This month, Jonas Wallat tells us about his work and what he likes to do in his spare time. Jonas is a PhD student in the Future Lab and joined in November 2020.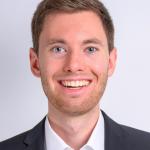 Who are you and what project are you currently working on?
Hi I'm Jonas and a PhD student in the Future Lab. My main research interest are in interpretability, model analysis and NLP. In the Future Lab I am currently applying transformer language models to genetic sequences. In this work, I try to improve the model's understanding of functional and structural gene properties by adding domain knowledge into the training process.
What do you find most exciting/ interesting about your work?
The best part about working in the Future Lab are the international team and being able to apply our research to real-world problems.
What made you decide to study for a PHD?
My main motivation for doing a PhD was being able to do a deep dive into a topic, become an expert in it and gain novel insights.
What do you enjoy doing in your free time?
I like biking around the city, doing sports and playing the piano.
What's your favorite place in Hannover?
Welfengarten and Georgengarten (the parks around the university).
Contact:
wallat@l3s.de